At DOLL we fill a gap in the innovation chain by bringing public and private actors together on a neutral ground, where they can test,  showcase and be inspired by cutting edge technology in a "one stop shop" with all relevant network infrastructures present across our 400 acre living lab.
As the development of "Internet of Things" continues to accelerate, with a predicted 125 billion devices connected by 2030, we aim to make full use of this potential by not only facilitating communication and knowledge sharing between public decision makers and the market, but also collaboration and system integration between individual manufactures and their technical solutions.
You can read more about our main focus areas and concrete solutions below:
CITY WIFI
LOW POWER WIDE AREA NETWORKS
CELLULAR NETWORK
SENSOR-BASED SYSTEMS
END-TO-END CASES
INTELLIGENT OUTDOOR LIGHTING SOLUTIONS
LIGHT MANAGEMENT SYSTEMS
BUILT-IN SMART TECHNOLOGIES
AND MUCH MORE
ADVANCED SENSOR BASED TRAFFIC CONTROL
ADVANCED SIGNAL PROGRAMMING
ADAPTIVE SIGNAL CONTROL
MONITORING AND VISUALISATION
AIR QUALITY
NOISE POLLUTION
TEMPERATURE
RUNNING LIGHT
EV-CHARGING
CITIZENS INFO-KIOSK
By 2030, the number of Internet-enabled devices is expected to exceed 125 billion – there are already far many more devices online than there are people on the planet.
In the future, many of these devices will be located in urban areas, where they will contribute to better services for citizens in regards to light, waste management and traffic flow.
Right now many of the new devices differ broadly in terms of network infrastructure and capabilities, so at DOLL we are testing a wide range of networking solutions, from LoRaWAN to lightning fast 5G.
INTELLIGENT OUTDOOR LIGHTING
LED technology and intelligent light management have the potential to cut 80% of the resource consumption of traditional outdoor lighting.
This technological development also highlights the possibility for light to be used more effectively as a means of creating security and raising our overall experience of the urban space: for example, light that adjusts to different needs and levels of activity. At the same time, street lighting infrastructure also shows great potential to support various network and sensor technologies.
The testing and demonstration of LED-based outdoor lighting is therefore an essential part of DOLL Living Lab, where more than 80 solutions are tested side-by-side.
At DOLL we measure precipitation, temperature, noise and particulate pollution in real time. Measuring in real time offers completely new possibilities for adapting activities to the current conditions, for example by directing traffic away from cloudy areas or adjusting snow clearance and salt distribution to match the current road temperature.
The real-time measurement of particulate pollution and noise, for example, can provide valuable information on how we can best organize our infrastructure. This benefits both individual citizens and society as a whole.
In Denmark alone, approximately 11 million tons of waste are produced annually. Waste collection costs time, money and resources, so at DOLL we test digital sensor-based solutions, where collection takes place as and when needed, rather than on fixed schedules.
Imagine a future where waste containers can tell when it's time to be emptied and intelligent systems plan the most optimal collection routes – routes that may even take into account the current traffic situation.
Visit DOLL and experience the future of waste management today.
INTELLIGENT TRAFFIC SYSTEMS
At DOLL we test several different solutions for intelligent traffic systems.
A number of traffic signal suppliers have joined forces to test and develop technological solutions in what is Denmark's first living lab for intelligent traffic systems. The goal is to get a higher and more precise prioritization of buses during rush hour, where data directly from the buses means that in principle it only stops at the stops. With the help of intelligent traffic signals, the buses will instead be able to ride on a green wave – especially if it is delayed or filled up by passengers. A total of six intelligent traffic signals, from Citelum, Lacroix, SAI / Intetra, Swarco, Technolution and Verdo, will be installed at Hersted Industrial Park, which together represent most of the different traffic signal types found in Denmark.
SOLUTION PROVIDERS: INTELLIGENT OUTDOOR LIGHTING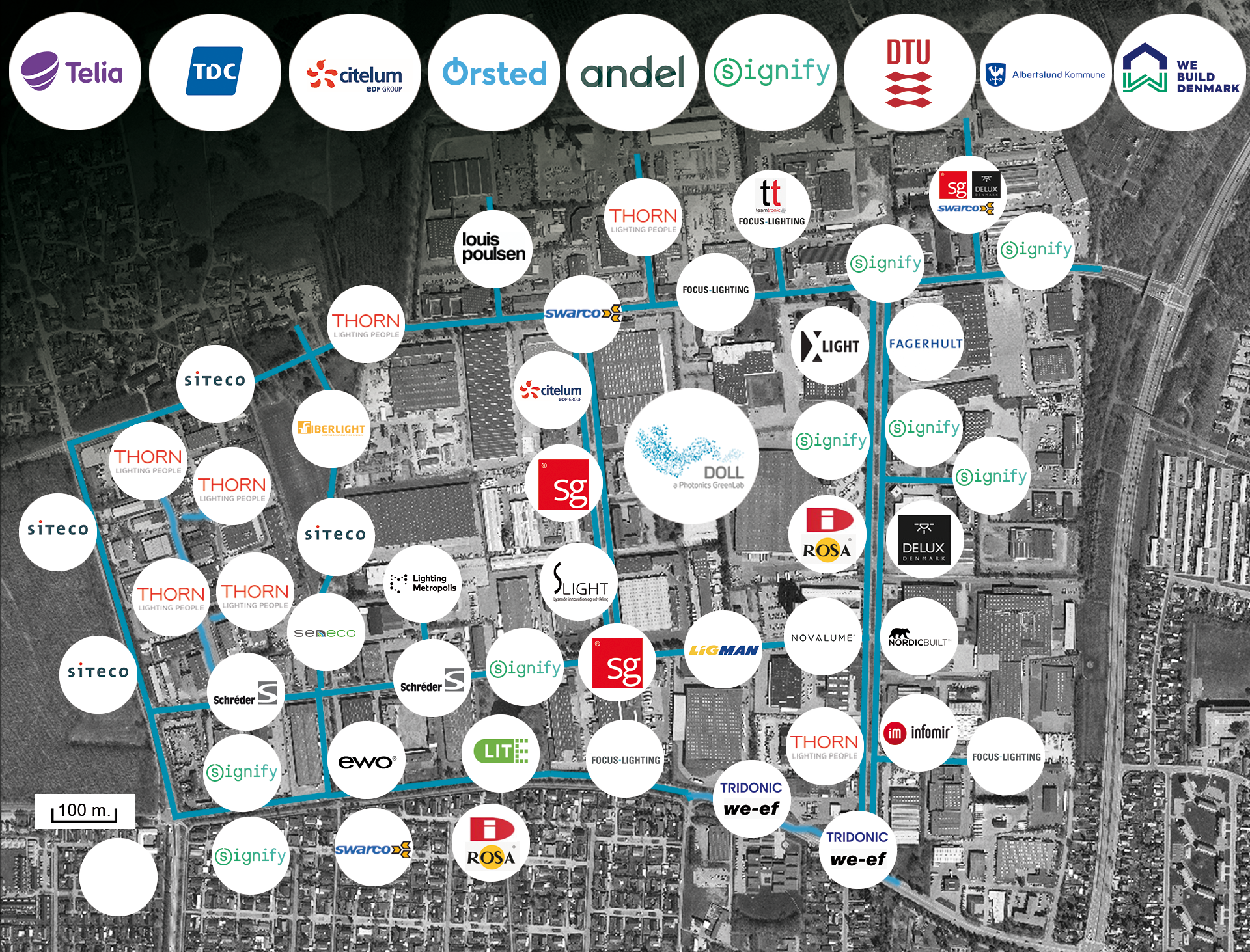 SOLUTION PROVIDERS: LIGHT MANAGEMENT SYSTEMS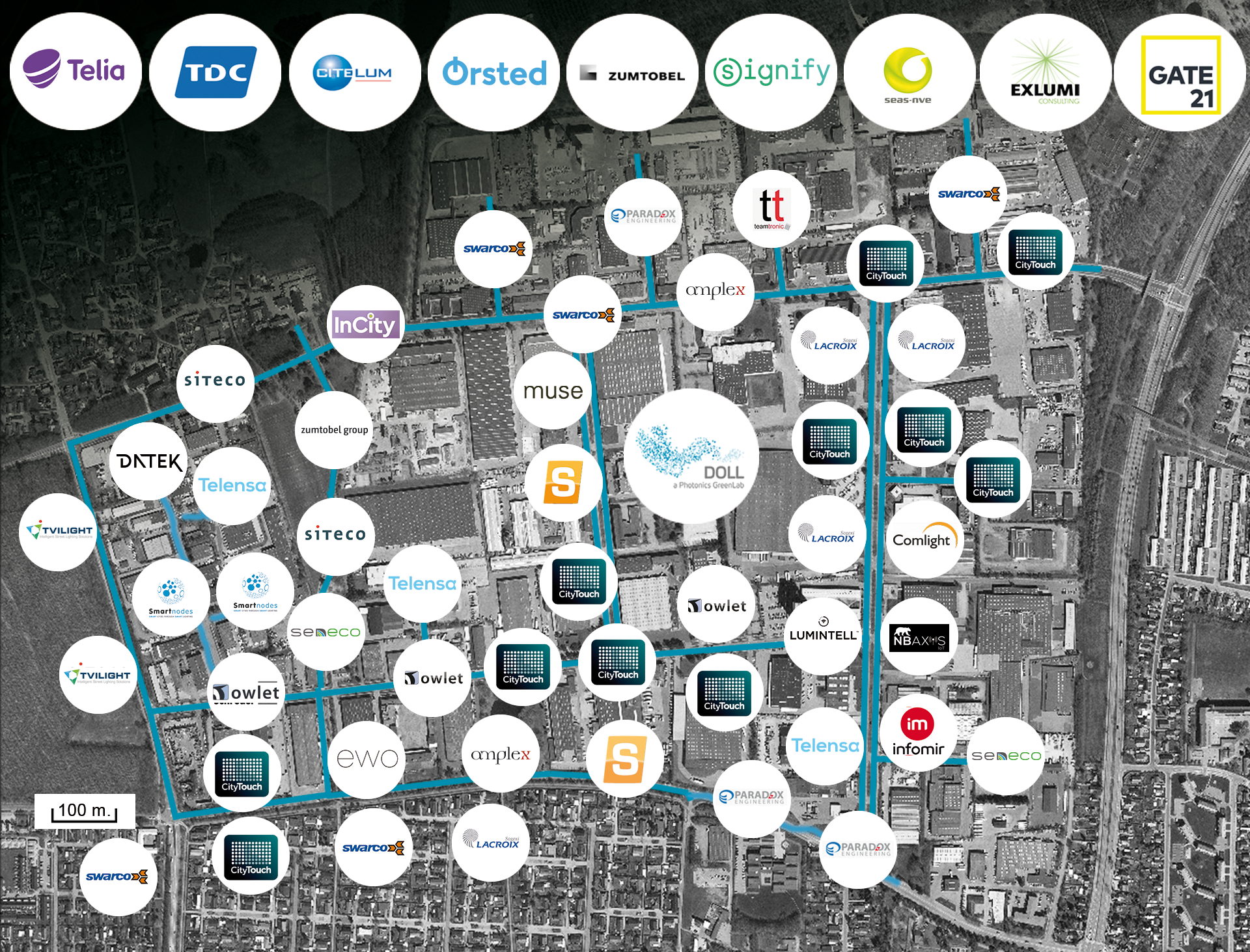 SOLUTION PROVIDERS: ENVIRONMENTAL MONITORING, PARKING & MOBILITY AND MORE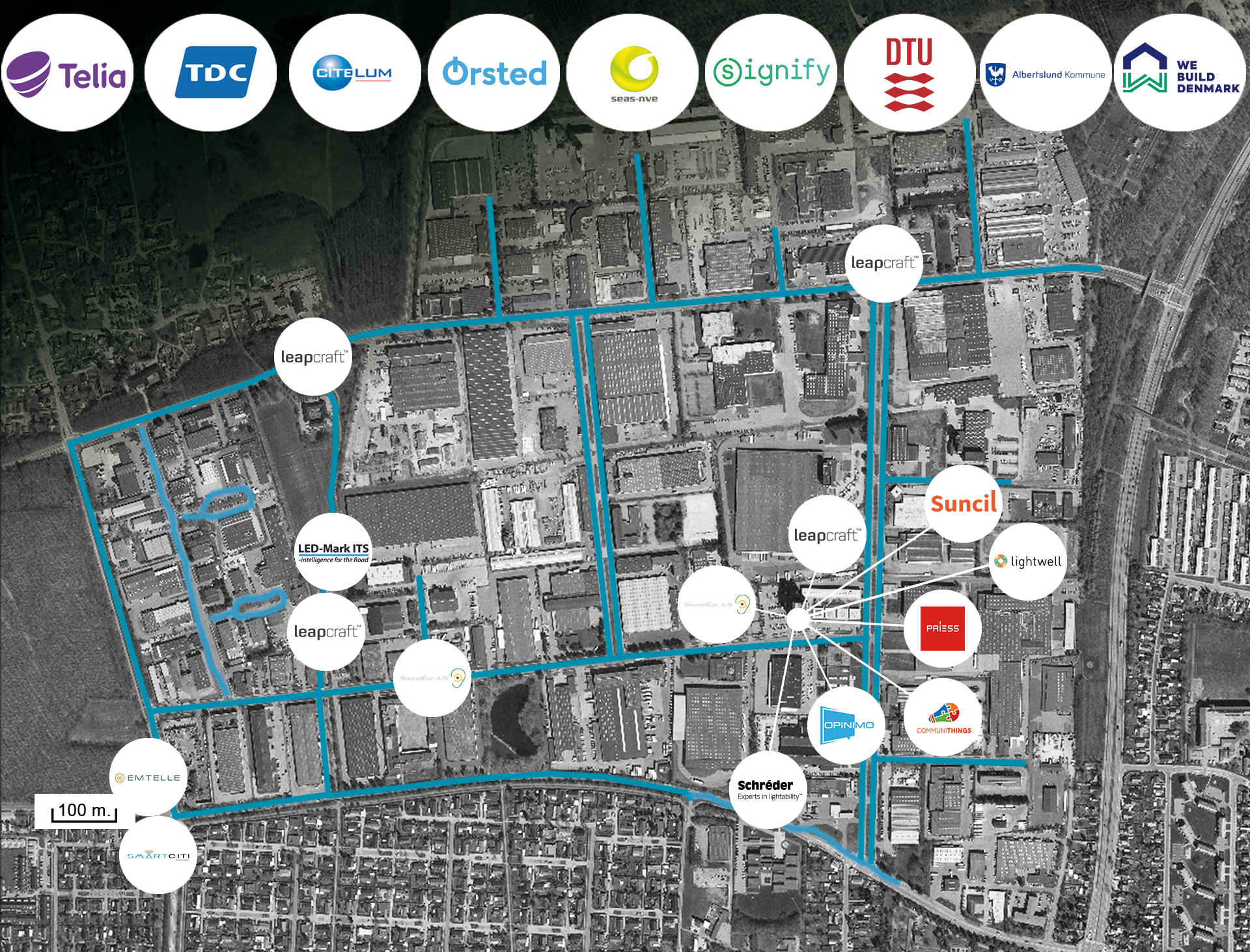 SOLUTION PROVIDERS, WASTE MANAGEMENT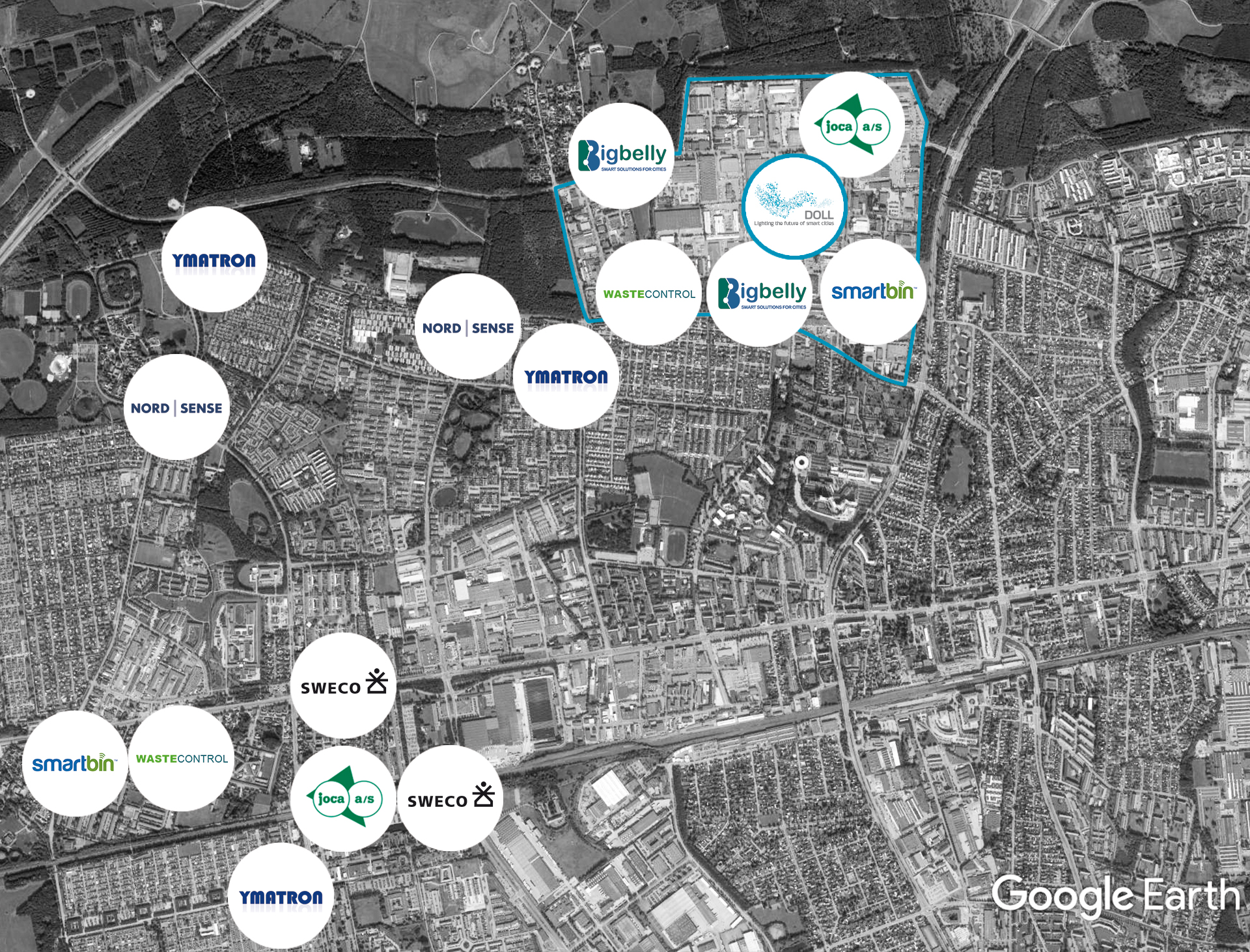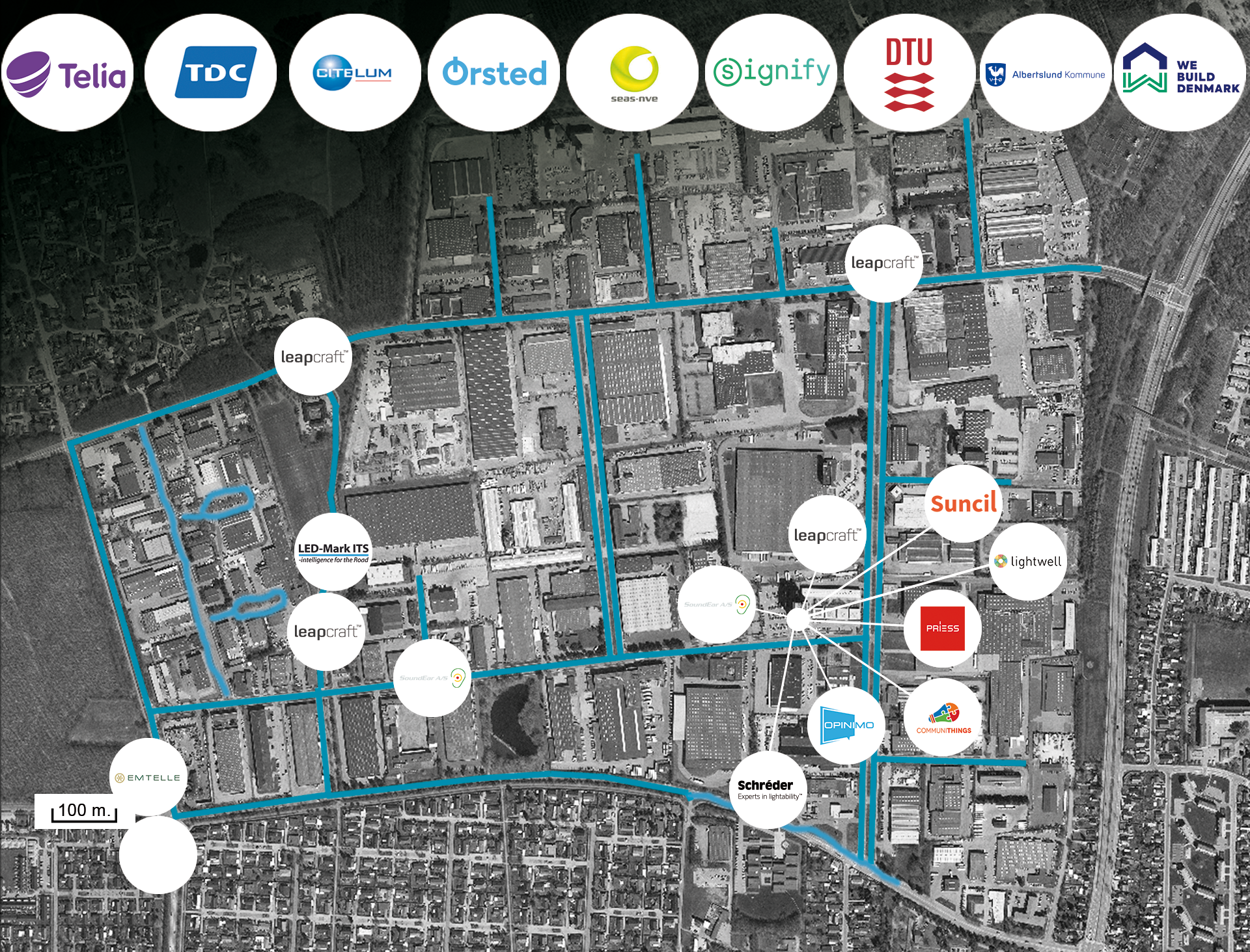 CASE: City wifi:
Full scale coverage
2 partner companies enrolled
Around 60 access points applied
Installed as mesh-network
Guest-, admin-, and devices-network
CASE: Mobile/GSM network
Full scale coverage
1 partner company enrolled
Networks: NB-IoT, 2G, 5G
3 use-cases connected
CASE: LPWAN
Full scale coverage
3 partner companies enrolled
Networks: LoRa Wan, Sigfox, UNB
5 use-cases connected
CASE: Air Quality
4 sites involved
1 partner company enrolled
1 solution currently applied
4 sensors in operation
Pollution level: CO, NOX, SOX, temp., humidity, etc.
Data visualization
CASE: Temperature
3 sites involved
3 partner companies enrolled
3 solutions currently applied
Sensors based on radar technology
CASE: Noise Pollution
2 sites involved
1 partner company enrolled
1 solution currently applied
2 sensors in operation
CASE: Housing Associations
5 sites involved
6 partner companies enrolled
4 different solutions currently applied and tested
Close to 200 sensors in operation
In-ground containers
Residual waste, glass, plastic, paper, metal, cardboard
Public Space (bus-stops, schools, and pedestrian areas)
4 sites involved
5 partner companies enrolled
4 different solutions
Close to 60 sensors in operation
Mini, compactor, and street bins
Residual waste, glass, plastic,
paper, metal, cardboard, electronics
CASE: Industry, Office Buildings and Institutions
6 sites involved
3 partner companies enrolled
4 different solutions currently applied and tested
Close to 40 sensors in operation
Mini, midi, maxi, and frontloader-containers
Residual waste, construction waste, electronics, plastic, paper, metal, cardboard
On a regular basis, DOLL Living Lab is implementing new layers of development. We tap into the needs of the cities and the market, keep asking questions, test and explore new ways of how to elevate the digitization of the urban space.
Together with our base organisation, Gate 21, we have a strong capability to work with funds, cities, knowledge institutions, and the private sector.  Therefore, a portfolio of development projects keeps build upon existing implementations. In the coming period, this count:
Cleantech TIPP: Deployment of smart waste management in the City of Albertslund, Interreg funds
LINC: Autonomous busses, test of dynamic bus service, EU-funds
Smart City Cluster Denmark: Program of excellence together with the market, national funds
The Regional Datahub: development and test of prototypes, regional funds
Lighting Metropolis: Human-centric intelligent urban lighting, Interreg funds
LUCIA: Pilot projects for sustainable and smart urban lighting solutions across the Baltic Sea region. Interreg funds.